Oticon is among the top-rated hearing aid producers worldwide. This company was created in 1904 by a specialist known as a Danish audiologist, a global leader in technology developments for more than a century now. Besides this impressive resume, some consumers still concern after finding some serious complaints about the brand.
In this article, we will discuss the latest Oticon hearing aids reviews from consumers on whether or not it is worth investing your money in.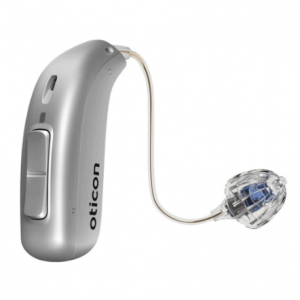 Oticon is famous for offering high-tech and safe cochlear implants that are well-known to provide impressive improvements for individuals with congenital or total hearing loss.

Further, they offer different selections for individuals with more manageable and milder hearing loss problems. Overall, this company approaches the traditional hearing aids with a similar outlook to medical implants providing clinical usefulness and durability instead of fashionable designs.
Oticon More Hearing Aid Reviews:
The Pros
The Cons
Provides hearing aids that employ IoT technology
Some models fail to compact with the android phones
Lower cost compared to other related devices
VA Clinics are excused from special offers and trials

Many connectivities and streaming selections need extra accessories
Wide range of selected models for kids
The devices address the full spectrum of the hearing comprising severe to profound
Most models come with rechargeable –cordless versions
Faster sound processing
OpenSound optimizer
Twinlink connectivity
Speech Guard software
Wireless Bluetooth streaming
Tinnitus sound support

What is the brand reputation?
The better Business Bureau gave Oticon brand an A+ ranking. Today this brand has opened many branches in different countries and has employed over 3,000 individuals all over the world. Any client can visit their specialists and undergo hearing assessments and tests before purchasing their hearing accessories related to hearing loss.
Which technology does Oticon Brand Use?
Generally, this brand invests their research and developments in surgical alternatives for hearing loss like cochlear implants. Further, they repurpose their technology for the traditional behind-ear hearing aids.

And this procedure allows them to be step head of recent technology while saving marketing gimmicks. This brand has tried to perfect its sounds processing for many years, offering real-time and best sound processing.
The products have no delays when detecting conversations behind the user because they are designed to deliver precise and pure signals to the users' brains. Read the latest: Otofonix reviews

Oticon Products and Services
Oticon brands sell a wide variety of hearing aids that vary in shape, size, and design. Besides, these devices can sit inside or behind the user's ear, depending on the user's preferences. Further, they produce children to adults hearing aids. Below are among their top-rated hearing aids:
This model encompasses three various behind-ear and receiver models. Plus, this model works appropriately for first-time and mild hearing aid loss.
And it does not connect to the Oticon ON app; however, it utilizes small manual buttons that control the volume and power. Essentially, these devices are simple to use, maintain, and compatible with the telecoils for additional cost for the individuals who might want to utilize the hearing loop system. They feature:
Dust and water-resistant casing IPX6 ranking
Tinnitus relief program
Bluetooth connectivity with smartphones, TVs, and music playersThree adjustable profiles that manage background or transient noise
This is a small device specifically produced for kids with hearing loss issues. Besides, these devices come with a rechargeable version that replaces the size 13 cordless with the lithium-ion ones. And also accessible in 12 various colors depending on the user preferences. Oticon Play features:
LED illumination next to cordless allows caretakers and parents to know when this device is charged or on.
Increases shock, water, and dust resistance
Compatibility with the Oticon ON, meaning the iPhone app, can allow users to adjust hearing aid settings right from their phone.
ChildProof Cordless doors to prevent kids from tampering with their devices
Compatible with the connect clip, the pocket microphone aids the kid to listen to someone standing a distance away.
360 degrees sound processing and detection that allows kids to hear from different directions
This device is made for individuals with the worst to profound hearing loss. So, the device is made with the best processing speed of Open models that favor potent receivers. Plus, its software prevents the unfriendly feedback noise that is a common nuisance to super-sensitive receivers. They feature:
Bluetooth connectivity that allows the user to sync with smartphones, TVs, and music equipment.
Dust and water-resistant casing IPX6 ranking
OpenSound software that meant to prioritize the disturbing sounds
Tinnitus relief program
Come with four adjustable profiles that mage background and transient noise.
This device is designed to offer a wide range of solutions (3) to hearing losses from severe to mild. This model comes with a discreet layout that tends to sit behind the user's ear and is delivered in four various models. The three variants are miniRITE T, miniRITETE R, miniRITE that provide a small speaker for excellent results. Oticon features:
Tinnitus relief mode
Faster binaural processing to allow the user to detect the direction of the sounds
Wireless connectivity among the hearing aids
Compatibility with Oticon ON app most probably for iPhone
Shock and water-resistant coating IPX6 ranking
360 degree sound detection best processing that separates and detects voices and sounds coming from different directions.
Made with SpeechGuard software that constantly detects that noise level in the background, adjust settings accordingly, and separates them right from speech signals.

Cros was created to effectively address moderate to worst one ear hearing loss. Besides, this is a tricky condition for someone to deal with because it ultimately affects one hear. However, the CROS hearing aids combine the full-featured on one ear to another ear with the best hearing aid. Also, Checkout: Listen Lively Hearing Aid Reviews

And both are synchronized and tend to process sounds to allow the assisted ear receive clear sounds from different directions. Further, CROS comprises a range of receiver in-ear and behind ear models paired with the additional receiver. Besides, these devices derive right from existing OPn Xceed, Ruby models to offer the same features.
Oticon Hearing Aid Price List 2020-21
Oticon hearing aids price can vary. As of 2021, the latest cost can range between $1,270 to $3,850. Some of the top-rated models include Xceed, Ruby, and Opn S.
The Best Oticon Accessories
This discreet and small accessory doubles the additional microphone, connecting to tablets, smartphones, or smart TVs. You will much require using this product if you specifically want to take the hands-free calls effectively.
In most cases, the receiver in the ear uses size 321 cordless that average three and ten days each. And someone can get this pack of 60 at affordable prices. (Read: Widex Hearing Aid: Is it Effective?)
The individuals with the Ruby or Xceed model will require the connecting streamer fixture to effectively link the hearing aid with a Bluetooth android device.
How can Someone Purchase Oticon hearing Aid?
The clients can make their orders through official company authorized hearing professionals from Oticon. However, they don't sell their product directly to customers but via third parties.
The Oticon specialist is available to help someone get started when they want to make an order of their products. And if you have never gone through an audiologist assessment, this website will aid you to get started.
finding an audiologist for you
Take hearing test
Assess your options
Help you Undergo the audiologist assessment of Oticon Product pricing
Since Oticon devices are not directly sold to customers but via audiologists and centers, the pricing will significantly vary. Besides, the price does not comprise the cost of initial audiology calibration, assessment, or follow-up appointments. Overall their prices are claimed to be affordable and lower compared to other related devices.
Conclusion
When choosing the best hearing aid, you can choose Oticon. This is because they will assess your hearing needs as well as making the most suitable recommendations depending on your specific needs. Over the past two years, this brand has helped over ten million individuals who make decisions related to living healthier lifestyles and staying healthy.