Finding the best hearing aids for tinnitus can be a difficult task especially if this is your first time. How do you know which one really works with all these companies claiming they can help? In this article, we put together all the information you need to know including which one you should stay away from.
People with tinnitus require to find the means to shut the internal sounds that they experience. Sound devices of different kinds help with this.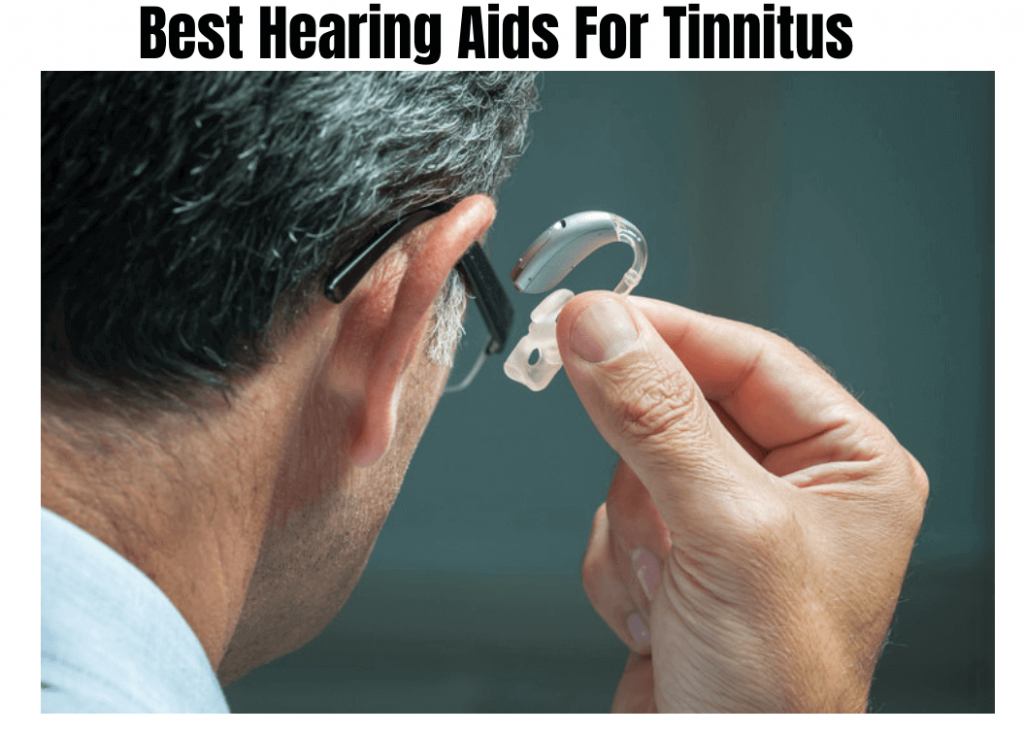 Hearing aids are good for people with tinnitus as they can help amplify any external sounds and by doing so, reduce the severity of the internal ones. Different brands sell different hearing aids, and to buy the best one, you need to know them and what type of hearing aid is best for tinnitus first. Below are some of the best hearing aids for tinnitus:
Top Rated Tinnitus Hearing Aids
The lively hearing aids are considered one of the best as a result of the many features they have. The hearing aid is connected to a lively mobile application which means that you need to have a smartphone.
Once you have bought this type of hearing aid, you can go ahead and make settings that will allow for the right volume, frequency, and sounds.
These settings are there to make sure you as a person with tinnitus get to have specialized settings that will bring you relief. You get to enjoy optimal relief by using this hearing aid.
| | |
| --- | --- |
| The Pros: | |
| You receive a three-year warranty for the hearing aids | Cons: |
| Streaming directly from your Apple devices is possible | Not for people with hearing loss |
| Audiologists can offer remote control | You can only get behind the ear models |
| Easy to use | |
| Excellent response | |
People with tinnitus can benefit a lot from the widex evoke hearing aids as they are made specifically for their well-being. The sounds you will be receiving from the hearing aids are meant to reduce tinnitus and they are accessible by phone as long as you have the application needed. Also read: Best Tinnitus Masking Devices
As a person suffering from tinnitus, you can adjust the settings of the hearing aid to what you want. The sounds provided for you will help distract you from all the negative impacts that come from having tinnitus.
| | |
| --- | --- |
| The Pros: | Cons: |
| The applications are user friendly | Difficult to buy these hearing aids from a website |
| Easy to operate | |
| Resistant to water | |
| The models are rechargeable | |
Veterans are prone to getting tinnitus and because of this, they may require hearing aids. Eargo offers veterans the opportunity to get quality hearing aids at a twenty percent discount. For these hearing aids, there are no features that lead to tinnitus relief specifically but they are very effective in reducing tinnitus.
| | |
| --- | --- |
| The pros | Cons |
| They are discreet | It is impossible to stream sound into the hearing aids |
| Very affordable | It is not made for people with hearing loss |
| More accessible | Insurance companies do not work with these hearing aids |
| Can be recharged | |
| You receive support from licensed hearing personnel | |
Signia hearing aids approach tinnitus using Notch Therapy7. The thing that is outstanding about this approach is that the tinnitus patient will not be needing any extra therapy moments. This kind of hearing aid can be used by people who have both moderate or severe tinnitus. The hearing aid helps the brain control sounds in such a way that you are not affected.
| | |
| --- | --- |
| Pros | Cons: |
| Suitable for people with hearing loss | To get information about these hearing aids, you need to visit the Signia website |
| Very innovative | Expensive than other hearing aids |
| Great features | Can be difficult to use |
| Provision of many different options to choose from | |
Resound hearing aids have the VA's PTM program that helps with tinnitus relief. The smartphone application offers you the information you may need in regards to tinnitus. You also receive different audio files you can use to distract yourself from internal sounds.
| | |
| --- | --- |
| The Pros: | The Cons: |
| Expected results | It can be expensive |
| Easy to operate | |
Factors to consider when buying hearing aids:
1. Level of hearing loss
You must choose hearing aids that will suit the severity of your hearing loss. Considering this will keep you away from making the wrong decision on the hearing aid you need.
Related: Best Rechargeable Hearing Aids For Tinnitus
2. Price of hearing aid
You should come up with the budget you plan to use to buy the hearing aid. Having a budget will assist you to get something that is within it and not end up going beyond it and ruining your financial plans.
3. Level of technology
Most hearing aids are digitized and as much as this is fun for most, some cannot handle such. This is why you must come to terms with the level of technology you are willing to work with where hearing aids are involved. Knowing this does help you choose hearing aids that are not complicated to use.
4. How easy it is to use
Considering how easy it is to use a particular hearing aid is a good idea. The reason for this is because having tricky hearing aids is time-consuming and can be tiring. Getting a hearing aid that is easy to use does make your life a lot easier. Choose something you know you will surely have no issues using.
Final Thought
Lastly, having the best hearing aid does work in your favor as it does help you deal with your tinnitus. The best thing is that you can rely on them when you are having a difficult time with your tinnitus as they can always come to your rescue. Our recommendation is to get Lively, it works flawlessly and many consumers are happy with it.